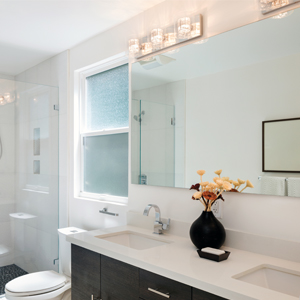 The Victorians were extravagant. Alongside feathered hats and the casual wearing of capes was opulent interior design. A mirror, for example, wasn't just a mirror. Exotic flowers, Grecian faces, and prancing fauna were carved into its gilded frames. The organically swirling patterns of the frame were so intricate that they were works of art. In short, those Victorian mirrors were epic.
Epic, however, slowly became gaudy as the Industrial Revolution made these luxuries obsolete. Then, the slow crawl toward modernism began. With an emphasis on minimalism, the ornate frames of mirrors became little more than curiosities. The new wave of mirrors became more practical as more and more homeowners were looking for something affordable to put into their bathrooms.
The dawn of modernism though left us nostalgic for something less industrial. Where the Victorian frames were grossly over-complex, the new modern frames were cold and pragmatic-to-death.
With this history in mind, newer manufacturers are starting to create something that combines the two. <a href="https://frontierglassinc.com/residential/">Mirrors installed by Frontier </a>fall somewhere between the nostalgia and class of the Victorian times and the accessible muteness of modern sensibilities. Talk to your Frontier representative to learn how you can have the best of both worlds with their gold and silver framed mirrors. Or, perhaps something more modern…